Our Warwickshire Quiz from Home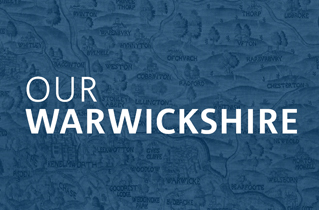 Take part in this weeks quiz
Just for fun, all the answers can be found in the pages of Our Warwickshire. Top tip to find the answers use the keyword search function of the website. The answers at the bottom of the page, don't cheat!! T
1.Over its history, Coombe Abbey had two menageries. What was the aviary of the first one based on, and where was inspiration for the design of the second possibly from?
2.Have you got the autograph of anyone famous? The friendship cloth made by Miss Hillson includes the names and autographs of both local people and organisations, as well as more famous ones. Can you find the Lillington Post Office Staff, Warwick County Fire Brigade, and the National Blood Transfusion Service on it?
3.Have you heard of (or even heard!) the Mickleton Hooter? What are said to haunt the areas around Mickleton, Ilmington and Meon Hill?
4.There was a golden age of lute music in 16th and 17th century Britain, some of which may have been played on a mid-16th century lute made by Hans Frei that's now part of the Warwickshire Museum collections. Where might you see other lutes made by Frei?
5. Where was the Woman's Royal Naval Service base set up in Radford Semele during the Second World War?
Answers:
1. The aviary at Kenilworth Castle, Versailles.
2. Did you find them all?
3. The aviary at Kenilworth Castle, Versailles.
4.Kunsthistoriches Museum, Vienna, with others surviving in museums in Bologna and Stockholm.
5. Thornley's Brewery