The County Arts Service develops and delivers a range of arts programmes. We work in partnership with other teams within Heritage and Culture Warwickshire (HCW) and with other services and organisations to show the impact of arts and culture on everyday life. Past arts projects have included:
---
Creative Health Warwickshire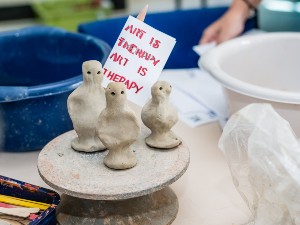 Warwickshire County Council's Creative Health Warwickshire programme incorporates six commissioned services over 2.5 years involving singing, storytelling, nature, dance, art and more to promote social connectivity and improve wellbeing for Warwickshire residents. HCW County Arts worked with Public Health to develop the programme structure and commissioning process as part of a wider social prescribing offer.
The six successful projects are led by Arty Folks, Escape Arts, Breathe Arts Health Research, Arts Uplift, and Arts Connect and cover the whole life course from parents and infants up to older people living with dementia. All courses are free and residents can either apply directly or be referred by a health and social care professional.
Find out more about Creative Health Warwickshire
---
Meeting Point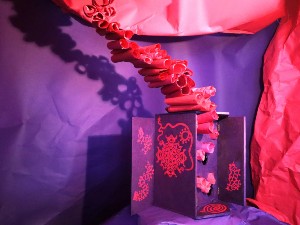 Established by leading contemporary arts agency Arts&Heritage, Meeting Point is a national partnership and curatorial development programme funded by Arts Council England that supports heritage and museum professionals to commission artists to create a piece of work in response to their site, creating opportunities for visitors to experience contemporary art in exciting places. HCW County Arts was successful in their application for the County Record Office and two members of staff to take part in this innovative scheme.
During the programme in 2021, HCW staff selected leading contemporary British artist Lady Kitt to work with Proud Youth to explore LGBTQ+ history in the Midlands and ways we can think about telling these stories and others from contemporary life in Warwickshire in fun, engaging ways. The resulting socially engaged project 'This, Our Hive of Voices' and resulting artworks were concluded in 2022.
---
Pandemic Stories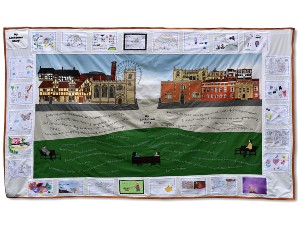 Following on from the Creative Care projects in response to COVID-19, Warwickshire County Council commissioned Arts Uplift to deliver a project that would capture the wider experiences of the pandemic for Warwickshire people in 2021. Three artists worked with different community groups across the county to capture their stories and develop them into new artworks. HCW County Arts brokered a partnership with the County Record Office and Museum to collect oral history recordings and items donated by the participants to be accessioned into our collections for future preservation. The resulting art exhibitions toured county-wide in 2021-22.
Find out more about Pandemic Stories
---
Try It!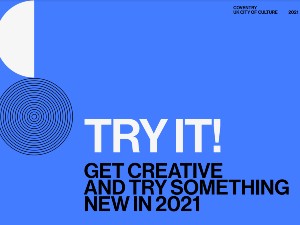 Try It! was a partner project between Coventry City of Culture Trust, Warwickshire County Council, Health Exchange and Age UK that took place in 2021. It offered a range of new, health-giving creative activities to residents of Coventry and Warwickshire during the City of Culture year. The programme included 19 different ten-week workshops across the region and promoted the uptake of arts and physical health activities specifically for social prescribing. HCW County Arts supported the development and delivery of the project and its aspirations to create a legacy of creative activities and new, sustainable clubs for communities into 2022 and the future.
---
It Gets Lighter From Here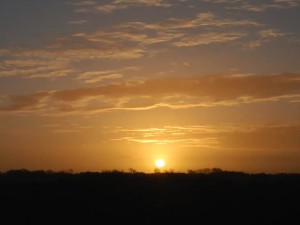 It Gets Lighter From Here was a collaborative, cultural experience from the West Midlands Culture Response Unit (WMCRU) – a virtual day of hope and positivity, showcasing a collection of 60-second films from organisations across the region. Artists and cultural institutions collaborated to release hundreds of these short films across their social media channels, through the hashtag #ItGetsLighterFromHere on the Winter Solstice in December 2020. A total of £34,050 was raised, providing vital financial support for the region's freelancers and community members who were left unsupported through the COVID-19 pandemic, with a lack of job security and stable, regular income.
HCW County Arts funded 3 artist micro-commissions through a partnership with Pentabus. The successful Warwickshire artists were Sioda Adams, Sam Holley-Horseman, and Jane Bracey & Jill Davis who each created a mix of film, audio and digital artworks.
Find out more about the Pentabus commissions
---
Creative Care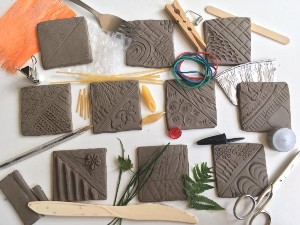 In response to COVID-19, eight creative projects were commissioned by Warwickshire County Council as part of the Coventry & Warwickshire Creative Health Alliance to support people's health and wellbeing throughout the first lockdown of 2020. HCW County Arts supported the development and delivery of the programme and Coventry University evaluated and produced a report to inform future creative health commissioning.
The successful projects were delivered by Armonico Consort; Arts Uplift; Escape Arts; Live & Local; Juliet Russell; Open Theatre; Starfish Collaborative; and Sundragon Pottery. They ranged from online singing, drama or journaling workshops; postal activity booklets or clay kits; to community artist residencies and socially distanced performances; with each project working with a range of vulnerable groups and participants at risk of isolation.
YouTube – Creative Care project showcase
---
Creative Health Meet-Ups & People Like Us Festival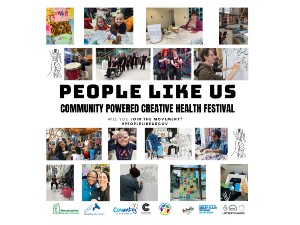 Working with Coventry City Council and the City of Culture Trust, HCW County Arts supported the development of new initiatives for Coventry and Warwickshire creative health practitioners in preparation for the City of Culture year and to tie into the wider work of the Coventry & Warwickshire Creative Health Alliance.
Meet-Ups was a support network and professional development programme that provided a platform for information sharing, new partnerships and collaboration, and enhancing skills and knowledge for artists throughout 2019-2020.
In 2020, the People Like Us Festival built on the success of the previous year's Creativity and Wellbeing Festival held at the Herbert Art Gallery, to deliver a week of online events. The festival offered multiple opportunities for people to engage with both local and national artists in creative health activities, toolkit sessions, talks and presentations.
Find out more about People Like Us Festival
---
Suitcase Stories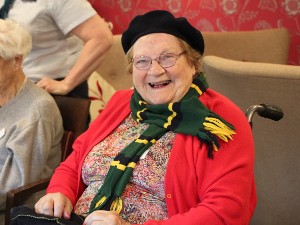 As part of expanding their successful Suitcase Stories project into Warwickshire, Arts Uplift were awarded funding in 2019 from South Warwickshire CCG and Warwickshire County Council with support from HCW County Arts to run 10 weeks of reminiscence and music workshops for people living with dementia and their carers at Alcester and Kenilworth libraries. Orchestra of the Swan and Warwickshire Reminiscence Action Project were commissioned to provide live music and handling objects.
Each week had a different theme from work, school, or holidays, to dressing up and going out. The musicians played music based on the theme and encouraged people to sing along and dance whilst the handling objects sparked related memories.
YouTube – Promotion of Suitcase Stories for Year of Wellbeing
---
ReCollections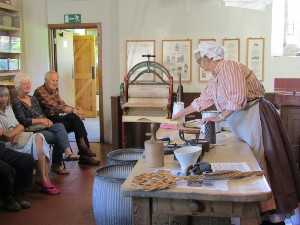 HCW County Arts developed a dementia cafe for Market Hall Museum in 2018 using the vast museum collections and local heritage as a way to engage and inspire people living with dementia and their loved ones in practical, multi-sensory and creative activity. The monthly sessions featured a wide range of hands-on topics such as learning what life was like in a Victorian kitchen, churning (and eating) their own ice cream, making papercraft items with visiting artists, or singing along with local musician's renditions of their favourite songs.
Since then, and with thanks to Tesco Bags of Help funding, handling loan boxes were developed that are now available to hire from the HCW Learning team and through Warwickshire Libraries.
YouTube – Introduction to ReCollections loan boxes
---
A Patient Life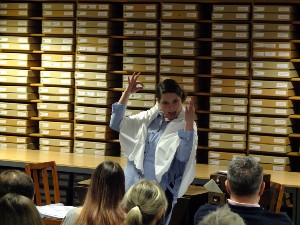 In 2018, writer and performer Francesca Millican-Slater finished a year long residency for HCW County Arts in the County Record Office where she had been researching the extensive archives of the Warwickshire County Lunatic Asylum.
A Patient Life was the culminating performance that explored the life of a former fictional patient 'Elizabeth' whose life story was told through the reading of letters and patient notes, and the slow laborious act of folding laundry.
---
Crossing Borders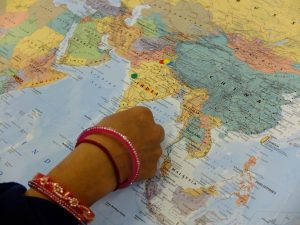 This six month collaborative project was led by HCW County Arts with the Apna Ladies Group at the Benn Partnership Centre in Rugby. Through a programme of curator talks, object handling sessions, arts activity and oral history recordings, the project gathered recent migration stories to add to the diversity of the collections at Market Hall Museum and to showcase the rich heritage and cultural identity of Warwickshire communities.
Working with artist Helen Barff, the group created a series of artworks that explored their own ideas and memories about moving to Warwickshire. These artworks were then displayed at Market Hall Museum.
Find out more about artist Helen Barff
---
Our Warwickshire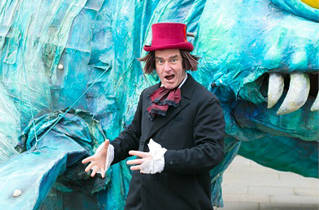 Our Warwickshire was a Heritage Lottery Fund (HLF) project celebrating and promoting access to heritage within Warwickshire communities. It included the refurbishment of Market Hall Museum, the launch of the community heritage site Our Warwickshire and an extensive arts outreach programme.
A special four month young people's programme led by HCW County Arts and working with Birmingham Open Media and students at Warwickshire College concluded the project in 2018. It included GAME ON! a public showcase celebrating the one year anniversary of the re-opening of Market Hall Museum with retro computer games, 3D pen sculpting, and electronic activities; a series of workshops at the college and museum based on digital gaming; and a unique Museums at Night experience where members of the public got to play three digital escape games designed exclusively by the students.
YouTube - Documentation for the escape games at Market Hall Museum
---