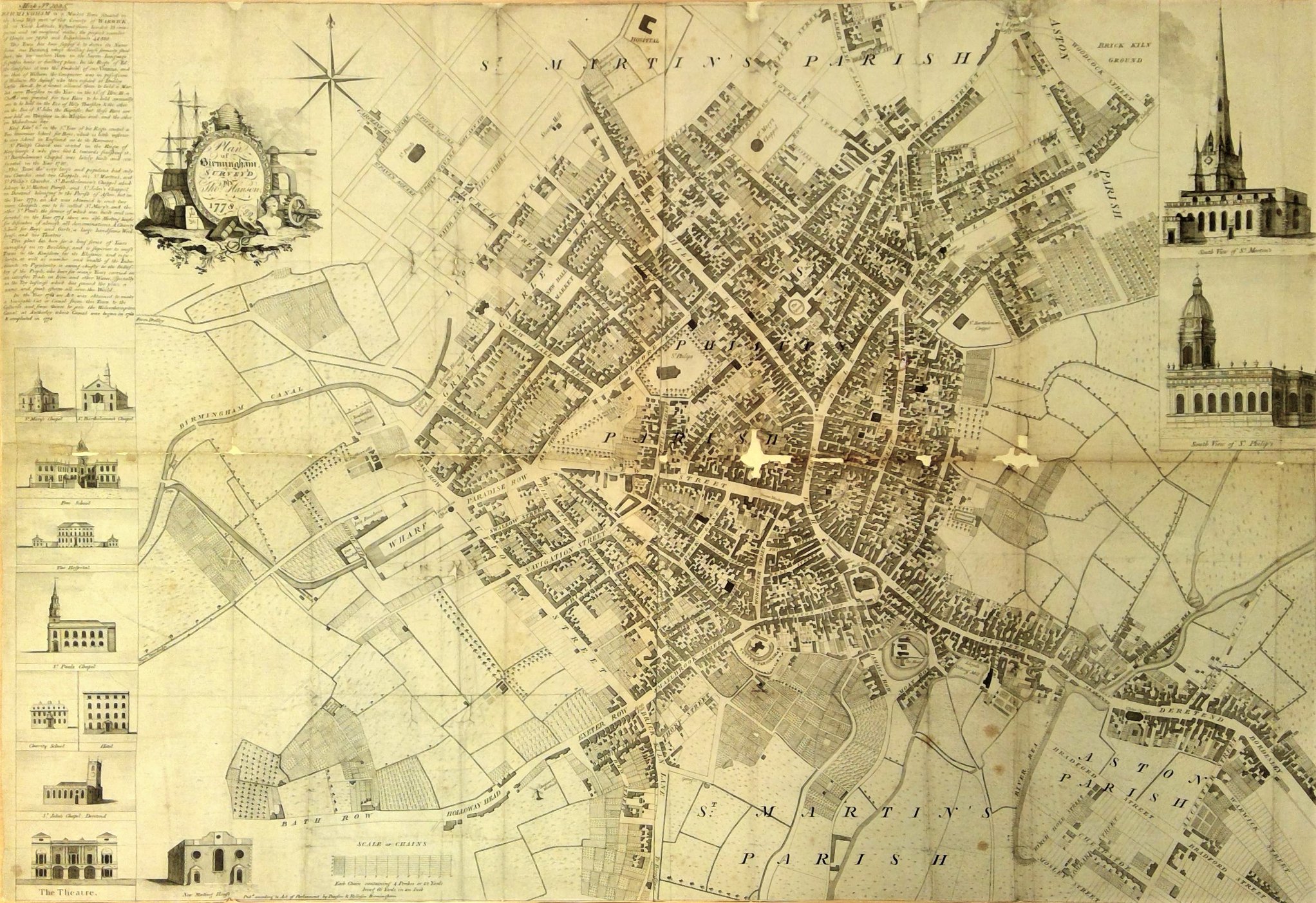 Discover a fascinating document from the archives.
September's Document of the Month explores a distinctive Printed Map by the Land Surveyor Thomas Hanson. This large-scale map was originally believed to be a revised version of Hanson's 1778 map of Birmingham, however this has since been proven incorrect and the map has been misdated, likely due to this new map being traced from the original but the date was never corrected. Instead, it's estimated to have been created in c1781.
Despite featuring the date of 1778 in the top left corner, this revised map depicts features which postdate this. These features include the first successfully working steam mill to ever be depicted on a map, which can be seen along Lionel Street, off Snow Hill. The Mill was erected in 1779 and used a steam powered rolling mill, however this was unreliable and in 1780 was replaced with a crank and flywheel which was far more effective. These details give us a rough indication of when this revised plan may have been created. Hanson went on to publish a reduced plan in 1781 which features these details, further reinforcing a rough creation date of c1781. As well as the Steam Mill, this misdated map also contains other details of interest including general road names and buildings of importance, such as: schools, hospitals, workhouses, warehouses, infirmaries, brick kilns and brass houses. These details appear in Hanson's 1781 reduced plan of Birmingham, reinforcing the estimated date of creation as c1781. Originally thought to be unique to Warwickshire County Record Office, a partially coloured copy of this map has since surfaced at the Library of Birmingham.
Unfortunately, very little biographical information has been found on the life of Thomas Hanson so far. What is known is that he died a gentleman and bachelor on the 22nd September 1796, aged 62 and was buried on the 27th at St Bartholomew in Edgbaston, Warwickshire. A tablet at the church reads: "To the memory of Thomas Hanson, late of Birmingham, Surveyor….He's dead! the son of science-here he lies, Whose genius was not bounded by the skies, The Earth, the Heavens, and astral realms above, [they move] Their systems, and the spheres in which He well survey'd-self-taught he knew their laws, and own'd with deference th'Eternal Cause."
Image courtesy of Warwickshire County Record Office (CR1086/5)