Tithe apportionments database
This database contains information taken from the tithe apportionments covering Warwickshire. These were created in the mid 19th century following the Tithe Commutation Act of 1836. Read more about the history of tithe apportionments.
Start your search
What information is contained in the database?
The names of the landowners and occupiers
The name of the land
The plot number
The size of the land.
Additional information where supplied
The plot number can be used to identify the land on the accompanying tithe map, which is a map of the titheable lands covered by the apportionment. The tithe apportionments also included the rent charge for the land, but this information has not been added to the database.
Tithe maps
The maps that go with the apportionments are not available online, though they have been digitised and are now available for purchase in a number of formats. Details of what we have for sale and how to purchase them.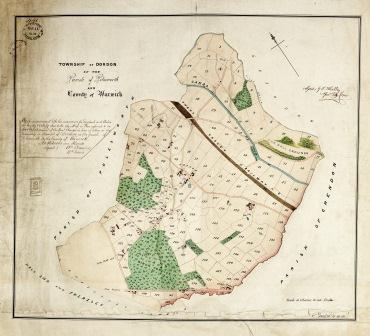 Dordon Tithe Map, 1850 (ref CR0328/36). More information from the Polesworth (Dordon) tithe apportionment schedule.
Coverage of the database
This database was created by our volunteers and was completed in 2008. If a parish does not appear in the database, it means an apportionment was not created. Apportionments were only created in parishes where tithes were payable. Some parts of the county are better covered than others. Areas which were enclosed before 1836 are often not covered because tithes were no longer payable. Our tithe coverage map indicates whether a tithe apportionment exists for a particular parish.
Land measurements
The measurements given in the tithe apportionments acres, roods and perches (imperial units), and the size of these could vary according to locality.
A rough guide to the size of the units is as follows:
An average football pitch is about two acres in size.
There are usually four roods to one acre; one rood would be about one eighth of an average football pitch, or a square with sides of about 35 yards. Confusingly, a rood can be a similar size to a perch, and the terms can be used interchangeably. In the Warwickshire tithe apportionments, roods denote the larger measurement of a quarter of an acre.
There are usually 40 perches to one rood, therefore the perch is a small measurement of about five and a half yards. It was often known as a 'pole' as its size derived from the length of the stick used to control the oxen when ploughing a field.
Roods and perches can be linear measurements or they can be 'square,' i.e. a square with sides of length one perch or one rood. The measurements used in the Warwickshire tithe apportionments are square measurements, so they describe an area rather than a distance.